Back when I was just getting my dirt-road-bearings around Burlington, Chittenden County and the surrounding area, I wanted desperately to ride gravel but had no idea where to start. So I did what anyone would do and Googled "gravel bike ride burlington vt." 
Among the top results was an Old Spokes Home blog post titled, "Six Dirt Road Rides for Burlington-Based Adventures." The first route in the post, "Stuck in the Middle With You," was my first gravel ride ever and opened the door for me to fall in love with gravel, road and a variety of biking far broader than my mountain-bike-centric roots. 
When I first rode "Stuck in the Middle," what most struck me was the lack of need to drive to ride. Sure, the views, dirt roads and activity were nice but I had gotten all of that before. Mountain biking had always called for me to drive to a trailhead though. These routes all conform to the belief that the best way to ride is from home, eschewing a car. Every ride on this list starts and ends at Old Spokes Home, making for an easy pedal to and from for folks in the greater Burlington area. 
I have revisited that blog post a fair number of times over the years, first as a rider looking for more routes and inspiration, and now as the guy who's supposed to run the Old Spokes Home blog. Recently, it has felt like it needed an update. New, free, and easy-to-use apps and websites have made route navigation more user-friendly and accurate than Google Maps turn-by-turn, and a handful of the highlighted roads are less passable than they were in 2016. 
Credit to Christine Hill for the original post and idea and to Gravel-Eater Seth for the routes! I have made some small changes to avoid roads that have become less rideable over the last handful of years and to add sections I know and love that keep distance and elevation consistent. If you're not familiar with RideWithGPS, where I've hosted these routes, it's a great resource for finding, creating and following bike routes. You can just use it like a map or if you're feeling spendy you can splurge for the premium version that offers turn-by-turn guidance. You can also export routes as various file types to work with other services you might use, like Strava, MapOut, or others.
Read (and ride) on!
---
1. Stuck in the Middle With You
This ride takes you through the back roads of Colchester and Essex. It is mostly rolling hills and features one larger climb (Brigham Hill Road). Great for novice riders looking to branch out into something a little longer and with more hills, or for experts who don't have all day to ride!
Looking to add more dirt, but not more distance? Turn right at Mile 4.1 onto Lavigne Road, then another right on Blakely Road. About a mile down, turn left onto Poor Farm Road for primo gravel, sweeping views, and mellow rolling hills. A left onto Route 2 will take you back to the main "Stuck in the Middle" route.
---
2. Heaven on Leavensworth
This loop of about 40 miles takes Spear St. to Charlotte, then splits off through Quinlan's Covered Bridge to lace together a handful of stretches of the finest dirt roads. Leavensworth Road is the highlight and includes an unmaintained section that more closely resembles trail than highway. Cruise back on Dorset St. before rejoining Spear St. just south of UVM Campus.
---
3. The Governator
This 32-mile ride features sneaky ways in and out of Burlington and two of Chittenden County's gems: Governor Chittenden Road's class IV (unmaintained!) descent, and Johnnie Brook Rd. into a singletrack section of the Cross Vermont Trail in Richmond. Be mindful on Rt. 2 after Governor Chittenden Rd.; the pavement isn't great and cars sometimes go too fast on this straight section of highway.
---
4. Underhill, Over Dale
A highly rewarding 60+ mile ride from town, this route takes you on rolling dirt roads through Westford, Fairfax, Cambridge and Underhill. Nearly 50% dirt!
---
5. East by Southeast (EXSE)
EXSE takes one of the sneaky routes out of Burlington, hits two of Chittenden County's gravel gems, and traverses hills steep and rolling in Huntington, Monkton, Hinesburg, and Charlotte. This route has many possible edits and add-ons, including:
• Mile 16: Take a right onto Hinesburg Road, then a left onto Hillview Road for an extra dirt climb that will take you back to Huntington Road.
• Mile 20.5: Take a right onto Texas Hill Road. to cut the route short, but add a significant dirt climb. Continue straight until you hit Route 116 and turn right to rejoin the route, or combine with Lincoln Hill Road for a grueling (but rewarding) over-and-back.
• Mile 42: Hang a left in Hinesburg to add Leavensworth Road, then use O'Neil Road to connect to Dorset Street for your return trip.
---
6. Rip-Town
This near-century-ride is an epic loop centered on incredible dirt roads south of Bristol. Bristol Notch, a 1,500-vertical-foot climb, entirely on dirt, takes you up and over the ridge into Lincoln. Take the Lincoln-Ripton Road south to Ripton, then hop on the Natural Turnpike on the way back for one of the best forest road rides in Vermont. Nary a structure in sight for miles! Just perfect gravel.
Not feelin' like 100 miles in a single day is your idea of a good time? Pack your bags and turn it into an overnighter! 
---
Looking for a bike to explore Vermont's dirt roads?
We like the Salsa Journeyer for its do-it-all versatility and bang-for-your-buck economy...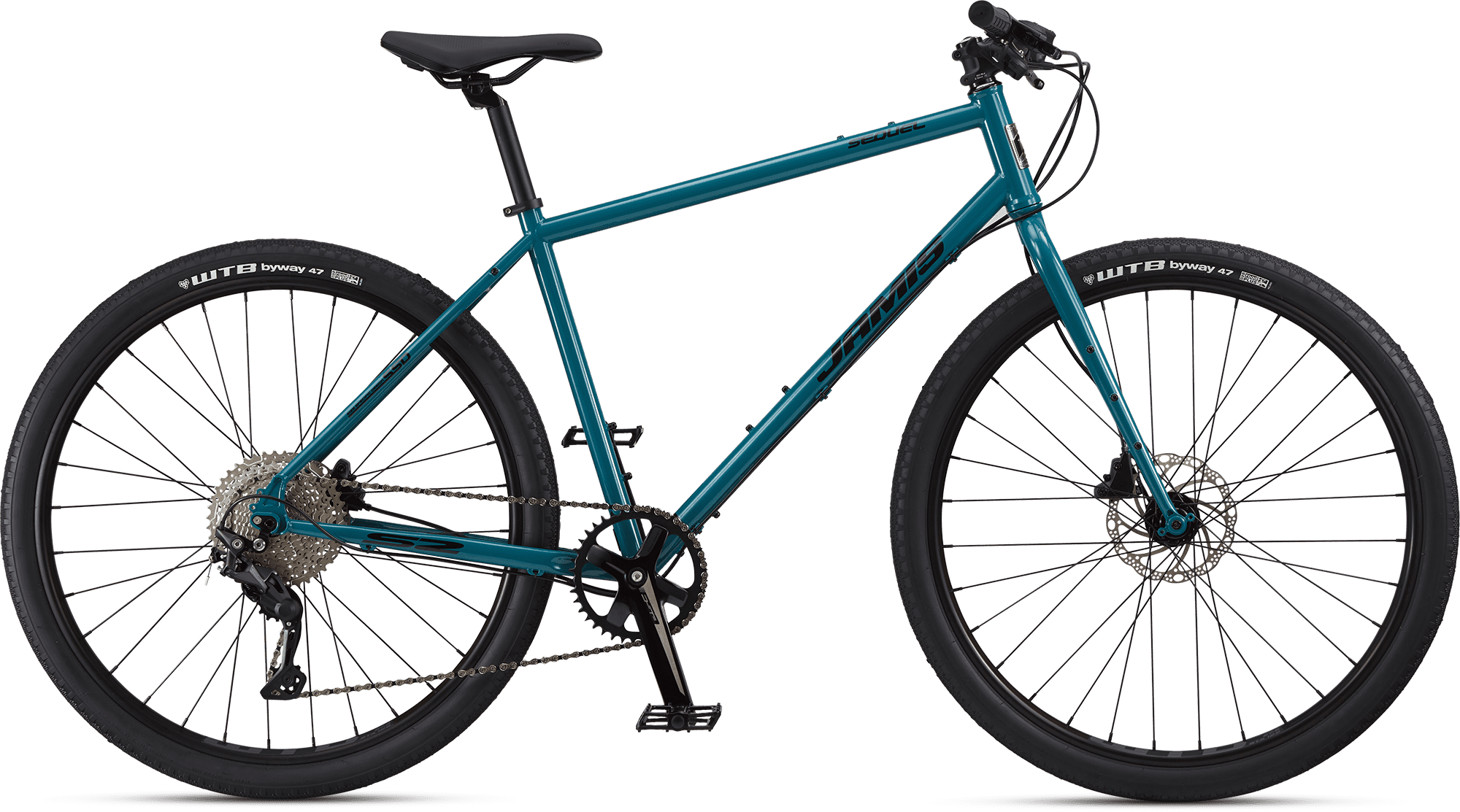 And the Jamis Sequel for its steel-frame, flat handlebars, and cargo capacity...
Or the Surly Bridge Club for its ability to actually go anywhere.
But what we really love are the used bikes that we refurbish into Vermont-all-road machines.
We also offer bags (ya know, for your snacks and camera) from Road Runner Bags, Outer Shell, Revelate Designs, and more.